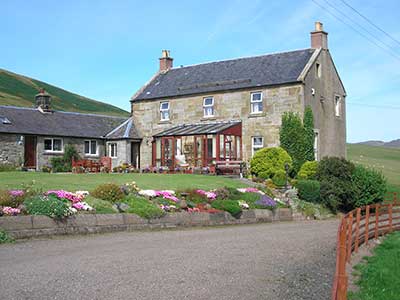 Patieshill Farmhouse is a real working hill sheep farm where guests can witness the activities of the sheep farmer's calendar.
It nestles into the Pentland Hills where guests are free to wander at their leisure--some choosing to climb to the top of Patieshill (1700 feet above sea level) before their hearty breakfast.
As you can see above, the views from the farm are absolutely magnificent, a panorama of heather-clad hills, moors, and ever-changing skies where the lapwing and skylark soar.
The farm, operated by George and Janet Burke, is conveniently located. The centre of Edinburgh is just a 30 minute drive away. Some guests choose to visit our nearby town of Penicuik (5 miles away) and use the free parking facility, then travel using public transport to Edinburgh at a cost of approximately £2.60 return per person.
Patieshill, being situated just off the A702 Edinburgh-Carlisle road, is approximately a 1 hrs drive from many other interesting towns (e.g. Stirling, Perth, Glasgow, Galashiels, and Dunbar).
Guest accommodation is in a private wing of the house, giving visitors complete privacy and freedom. Guests are furnished with a key upon arrival so they may come and go at their convenience.
The building dates back to the 17th century--in fact, during recent renovations, a Roman cistern was discovered to the rear of the building proving that there has been habitation at Patieshill for quite some time!
A very warm and friendly welcome awaits you at this peaceful rural retreat.